Inspiring Stories of Cerebral Palsy Warriors
No Looking Back
- Sonali Deshpande
I was admitted in to school directly in the 1st std. when I was five. The delay was for many reasons. Due to forceps delivery and resultant injury, I could not balance myself and co-ordinate my body movements. Doctors diagnosed it as

'Cerebral Palsy'. Thus started the rounds to the doctors and to Hajji Ali Centre for physiotherapy.

Also, when the time came for my school admission, most of the people advised my parents to admit me in the school for Spastic children but they felt otherwise.

After much deliberation, the decision to admit me in regular school was taken. By then I was much older for nursery. But I was being taught and prepared for school at home.

My admission in 'Balmohan Vidyamandir' was quite sudden. At that time, the school's principal was Shri. Dadasaheb Rege. He was known for his love for children and progressive thoughts. My mother approached him to admit me in his school. After the meeting, without batting an eyelid, Dada simply guided me to Std.1st. Thus, my studies began and I have never looked back since then!

All my school teachers were receptive towards me. Acceptibility was not a problem but accessibility was sure a one.The school authorities from their side tried to help me in every possible way like till 3rd std., 10 minutes prior the break, I was taken to the toiletby school attendants. It was very embarrassing, but I had no choice. My predicament was sensed by a very thoughtful teacher-Parab Sir, who instructed all the girls that I should be going with them whenever I wanted. From then on, I was accompanied by my friends everywhere.

School elocution competitions proved to be a boon for me to shake off my inferiority complex and build self confidence. Every year I used to participate and win the prize. When some teachers objected to my being on stage, fearing I may loose balance and fall off the stage, they were reprimanded by Kusumtai. But when I won, the same teachers had the grace to congratulate me which I valued. I also wrote for the school magazines which has now helped me in my career as a journalist.

Being in the regular school definitely helped me to feel that I am one of them though different from the rest. I have no complaints against anybody because from teachers, classmate to peons were good me and helped me. But, as a child, few incidents bothered me.

For one, I was never included in the play. When the entire class turned up on the ground I sat alone in the class. I never cried but it did hurt. Even for picnics, nobody was ready to take my responsibility, so I never went. Perhaps, now that is why, as and when any opportunity for an outing arises, my happiness knows no bounds. Now, as a mature, adult responsible person, I do understand the situation in a perspective.The organizational constraints which the school faced and the attitudinal barriers erected by few people around me were genuine but so were my emotions of being isolated.Sometimes I wonder, what if I was in a special school? May be I would have participated in the games or gone for picnics but I would have been denied the opportunity to be with other able children of my age and interactions with them. So, I guess, it balances the score.

I completed my graduation and landed into the field the field of journalism by chance. Now I am hooked on it. Being a professional journalist, I realize the power of pen and know it is mightier than the sword. Today, nothing holds me back. Now, I am invited as a correspondent to important factions. I have carved a niche for myself as an Entertainment/ Cultural Correspondent. I choose a right mix of T.V. programs, dramas and other cultural events to report and balance my work both from home and field assignments.

All these bitter sweet experiences have made me stronger. I have learnt to sieve only the good from the bad. My parents always aspired for a normal, productive life for me and worked towards it. I can not describe their contribution in words.

My friends and colleagues have also played a very definitive role. And I will always remain grateful to my school for giving me so much and preparing me for life!

---
Take a look at these beautiful bracelets. Do you know who's made them?
Sumukh Dadrawala


A young man in his 20s who happens to have Cerebral Palsy. He has completed his schooling from Punarvas Special School in Goregaon, Mumbai. Due to Cerebral Palsy, his movements have limitations but that has not limited his dreams! Sumukh wanted to study further and expand his horizons. So he enrolled in Yashwantrao Chavan Open University. Guess what? He completed B.A. with First Class. Further, Sumukh completed some basic computer courses & honed his skills so he could enter mainstream employment arena.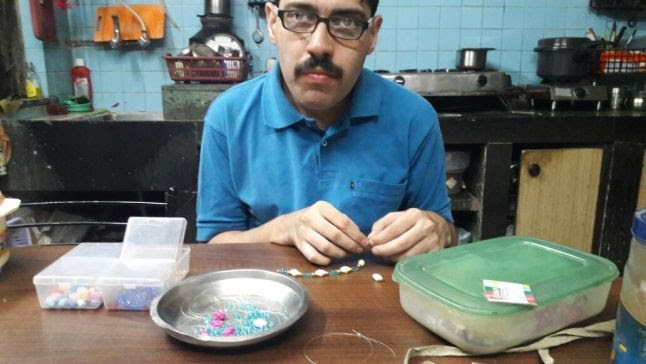 Sumukh was directed to us by an activist parent. He called me up with a lot of hope & introduced himself to us. He insisted that we give him some work to do. We did not have much work which he could do from home at that point of time. Sumukh was persistent and insisted that we give him some work. We were extremely impressed with his determination to work, thus our association began.

One day, Sumukh came to our office with his mother who has always supported him in all his endeavors. He learnt how to send emails, SMS messages to our Disability Helpline – DISHA callers and continued to do so with great commitment.

He has created an everlasting bond with us. We have great admiration for him and his fortitude, commitment, warmth, creativity, positivity and zest for life. Presently, he goes to a sheltered workshop to make beautiful bracelets/ bands. Sumukh will be very happy if you appreciate his work. He has put his heart & soul into this piece of art. We're sure that you will reach out to Sumukh.




Make your Friendship Day & Rakshabandhan all the more special by buying this beautiful band that will create an everlasting bond between Him & You.

Contact us on: +918898785000 to make a purchase!
Visit us at http://www.childraise.com to know more.


---
Manas Vengsarkar
We are utterly delighted to tell you about our student Manas Vengsarkar has passed 10th standard (SSC Board) with flying colors. Manas has scored overall 83 Percent in the S.S.C. examination.

Manas has been associated with us since he was a very young child. He used to come to us for academic improvement. Inspite of his daily routine of physiotherapy for his Cerebral Palsy, he has actively participated in many of our ChildRaise activities be it learning chess or singing for our programmes.

Manas is very hardworking. For his 10th std. he had been getting training for Arithmatic from us in which he has scored whooping 89 out of 100. We must add that all this was possible because of tremendous involvement of his parents at every step. We are extremely proud of Manas. We wish him good luck for all his future endeavors.