Quick Links
Books
Magazines / Newsletters



Interviews / Podcasts



We Recommend

We compile & curate a list of books, blogs, You Tube videos, TedX Talks, so you can educate yourself empower yourself.
Books & Films
Indian
"JOURNEY TO EMPOWERMENT" RESOURCE GUIDE – FOR CHILDREN WITH SPECIAL NEEDS – 3rd EDITION. PUBLISHED BY CHILDRAISE TRUST

This Resource Guide has all the information very systematically divided in to Ten Chapters.


1) Introduction 2)Orientation 3)Education 4)Vocation 5)Rehabilitation
6)Recreation 7)Recondition 8)Contribution 9)Legislation & 10)Inclusion.
Introduction has definitions, info about Rights of People with Disability Law 2016 etc. Orientation has basic information about various disability conditions like Intellectual Disability, Autism, Cerebral Palsy, Visual, Hearing, Speech impairment etc. Education contains disability wise lists of special schools in Mumbai & other metro cities. Similarly, Vocation has lists of sheltered workshops etc.

Rehabilitation section is very important section & has information about child guidance centres, support groups, marriage bureaus, Life Care Centres & much more information. Recreation tells about organisations, individuals who are working with children & adults with special needs in the field of sports, art/drama etc.Recondition will clear many of our misconceptions about disability. Contribution explains about volunteering, crowd funding. Legislation is a very important section that tells about latest changes in our legal structure, which are the laws that govern the disability sector, schemes for the people with disability.Inclusion stresses upon participation of person with disability in the mainstream society.

Do Contact us to get your copy of Resource Guide 'Journey to Empowerment'

Kavita Shanbhag - ChildRaise Trust, Founder & Managing Trustee
Mobile No- 09820256731
Email- childraisetrust@gmail.com
Donation Cost- Rs. 500/- (Courier Cost extra)
Payment can be made by Cash, Cheque, NEFT.
| | | | |
| --- | --- | --- | --- |
| DONATE ONLINE | | | |
| | | | |
---
---
---
In India, we do not have much literature on disability. We may find some articles /books written by parents of children with special needs or the person him/herself. "REACHOUT" Make a Difference is a simple holistic guide for families of special Adults written by RekhaBalgi is a bit different because she is a sibling & also a carer.

In any programme dealing with disability if you come across a cheerful smiling lady along with a smiling adult in his fifties, this duo is sure to be RekhaBalgi& her brother GirishBalgi who is mentally challenged. Rekha is a special educator, trained counsellor & a Yoga instructor. She is the Founder of ReachOut which was formed in 1997 that organises activities to create Inclusion & Awareness. Recently she has published this above mentioned guide which addresses issues those constantly cloud the minds of the carers of people with special needs. What After Us?

What After Us? was the driving question led Rekha towards research and to find options. The findings in this book are based on interviews, discussions & feedback from carers.

This book is very methodically divided in to Four Sections. A) An Intro B) Dealing with the Present has some important sub sections like 1.Family & Home 2. Medical Issues & Guidance 3. Insights & Guidance 4. Rehabilitation C) Pathways to Better Tomorrow deals with very important issues in adult life of a person with special needs & mentally challenged like Legal Guardianship, Financial stability, Writing a will, Health Schemes etc. D) Resources.

Do contact Rekha Balgi for your copy on rekhabalgi@gmail.com or contact us on childraisetrust@gmail.com

Marathi Translation of Reach Out has been published recently.
---
Reflections & A Tall Pygmy by Aruna Shahani
Contact Author for Copies on +91 9619927332 
---

Becoming a Mindful Parent
This book shares the 20 years of extensive and diverse experience of Reena Singh as an Occupational therapist working with neurodiverse children (children who learn differently) especially kids diagnosed with Autism, ADHD and sensory processing challenges.Reena shares the different approaches that are available and her view point on using and blending those approaches to make it holistic. Buy Book Online - Click here
Book on ADHD - Attention Deficit Hyperactivity Disorder


Taming the Tornado - A parent manual to manage the ADHD child By Mrs.Samindara Hardikar - Sawant, Illustrated by Ms.Kuntal Doshi by Disha Publication
Email- dishacenter@gmail.com www.dishaforu.com
022-24384575


---
Need for Financial Planner

Financial Planning for Families having Children with Special Needs' by Jitendra Solanki. Read more about financial planning in his book 'Financial Planning for Families having Children with Special Needs'
View PDF..
---
Books on Epilepsy
Epilepsy In India By B.S. Singhal and Devika Nag This book has been published by the Indian Epilepsy Association and Lenbrook Pharmaceuticals. This book contains information on diagnosis, management, social reforms and the provisions in the legal system and other issues, in relation to epilepsy in India.

Conquering Epilepsy by Carol D'Souza. It contains personal stories of people conquering Epilepsy. Finding the Rainbow after the storm.

'Mirgi- Kuchh Kahaniya' & 'Mirgi Ka Such' By Dr.Shailendra Jain



Sacred Disease

A Mind Unraveled - Kurt Eichenwald
The compelling story of an acclaimed journalist and New York Times bestselling author's ongoing struggle with epilepsy—how, through personal resilience and the support of loved ones, he overcame medical incompetence and institutional discrimination to achieve once unthinkable success.


This is the story of one man's battle to pursue his dreams despite an often incapacitating brain disorder. From his early experiences of fear and denial to his exasperating search for treatment, Kurt Eichenwald provides a deeply candid account of his years facing this misunderstood and often stigmatized condition. He details his encounters with the doctors whose negligence could have killed him, but for the heroic actions of a brilliant neurologist and the family and friends who fought for him. Ultimately, A Mind Unraveled is an inspirational story, one that chronicles how Eichenwald, faced often with his own mortality, transformed trauma into a guide for reaching the future he desired.

Of Epilepsy Butterflies
Having epilepsy since the age of two, Preeti Singh is an award-winning author who has overcome great challenges to live life on her own terms. Undeterred, she motivates others to come 'out of their closet' despite their insecurities. The gripping stories in this anthology – some true and some fictional – make for fascinating reading, more so for persons with disabilities and their loved ones. If society has not learnt to embrace persons who suffer from a condition that is no fault of theirs, this book should nudge anyone with a conscience in that direction. It is possible to lead a normal life. That's a point that every story here makes with clarity and simplicity. Buy book- Click here

Beyond the Blue: Love, Life and Autism by Gopika Kapoor
Beyond the Blue is a book that will inspire you to be a better person. Within its pages, author, autism consultant and mother Gopika Kapoor describes her unique, yet universally shared experiences as the parent of a child with autism. Through the intimate stories of life with her son Vir, she immerses readers in shining moments and dark episodes, brimming with refreshing honesty, sparkling humor and undaunted courage.

Beyond the Blue is an indispensable guide for parents of children with autism, whether they are starting out on this journey or have been traveling this path for several years. It provides a road map for parents to negotiate the pitfalls and through the narration of her own experiences, a point of reference for what they might be going through.Above all, Beyond the Blue demonstrates the power of the human spirit to accept and overcome a seemingly insurmountable challenge with positivity and love.

Autism - A Handbook Of Diagnosis & Treatment Of ASD by Sumita Bose
Autism is a complex developmental disability. Generally, autism presents itself during the first three years of a person's life. The condition has an effect on normal brain function characterized by social impairments, communication difficulties, and restricted, repetitive, and stereotyped patterns of behaviour. Males are five times more likely to be affected than females.

As early as infancy, a baby with autism may be unresponsive to people or focus intently on one item only. A child may appear to develop normally and then withdraw and become indifferent to social engagement. Children may fail to respond to their names and often avoid eye contact with other people. They have difficulty interpreting what others are thinking or feeling because they can't understand social cues."Autism – a handbook of diagnosis & treatment of ASD" discusses signs, symptoms, causes, myths, facts, therapies, treatment, education, career and many more things related to autism. It provides practical advice so that the special child can lead a quality life to the extent possible.

Born Again on the Mountain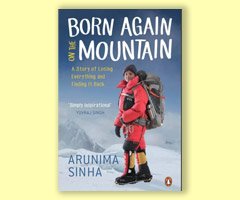 "Born Again on the Mountain" is the true story of Arunima Sinha, a girl who beats all odds to become the world's first female amputee and India's first amputee to climb Mount Everest.

Home Bound Occupational therapy
This is is a very useful book for parents. Written in simple language, it covers all important aspects in the life of a special child.Contentwise,
it gives a gist of all areas of work, which can serve as a guide for parents and give them a direction.

The chapter headings and activities provide scope for good learning and understanding of key areas/ disabilities. Reading and practising , parents can become more observant and can develop a better understanding of child's problems and needs from a therapeutic point of view.

The activities are explained in a way which can enable parents work positively for child's development themselves.




---
Journey Towards Promotion of Inclusive Education in India
This book, published by the National Centre for Promotion of Employment for Disabled People (NCPEPP), documents a silent revolution: developments over a period of only a few months but to have a deep impact on the education and therefore on the empowerment of India's 70 million disabled people.
---
Visual Impairment
From Darkness to Light By Dheera Kitchlu
These are stories of uncommon courage of Blind Women Achievers. Published by National Association of Blind (NAB) and Committee for Achievement of the Status of Blind Women (CASBW) Note: Braille and audio versions are available with NAB.
What Am I a book written by Vrinda Bhargava - a college teacher in Nasik is based on the life of Siddhi Desai. The. The book is hailed Inspirational by none other than our Ex-President-Pratibha Patil. She adds that Siddhi is a very brave girl & has fought like a warrior. Siddhi may not have eyesight but has a vision. President hopes that all girls & boys grow up with her kind of ambition, courage & hope.


Face to Face by Ved Mehta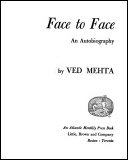 Ved Mehta was born to a Punjabi doctor. At the age of four, Ved suffered from conjunctivitis and lost his vision. He became blind. Vision is the most important of the five sensory organs. When it was lost, Ved`s life became dark. All the roads to his progress were blocked. But Ved was born with extreme intelligence. His thirst for knowledge was unquenchable. He enrolled himself at the Blind School at Dadar, Mumbai. He completed his primary education there and then approached many American Universities for further studies. At last, he succeeded in enrolling himself in one of the American Universities. He faced many problems but overcame all. He completed his education there. Today, he is a well-known journalist in America. This present book is the translation of his autobiography `Face to Face`. It is distinct and is interesting. It touches not only your mind but also your soul. It is much more attractive than a novel and much more touching than a poem. This is a story of extreme passion for knowledge, terrific confidence, and fierce infatuation to live.
---
Hearing Impairment
Beyond Those Walls of Silence
a real-life experience of helping the deaf speak By Lalini Rajasuriya ( Amra Publishers-Chennai). A poignant story of a mother whose consistent love, insight transformed profoundly deaf child Mahindra into a robust & creative young man leading a normal life. The book is invaluable reading for all parents working with deaf children.
---
Learning Disability
Children and Learning Difficulties- Onita Nakra
Children with Learning Difficulties - How to Help
A Guide for Parents & Teachers by Bela Raja, Published by Vakils
---
One Little Finger- Malini Chib
One Little Finger
is the autobiography of Malini Chib―a woman who defied all odds to emerge victorious in spite of a crippling disability and an indifferent society; who dragged herself out of the limits of her condition. This is the story of Malini's search for independence and identity, and her zeal to live a full, meaningful life despite lifelong disability.

Malini has Cerebral Palsy, a neurological condition similar to an adult stroke, which makes body movement and speech extremely difficult. However, the cognitive functions of the brain can often remain unimpaired, as in the case of Malini. She recounts her experiences from childhood to adulthood, her struggles with motor skills and speech, managing day-to-day activities, and the apathy and indifference of people towards her and others who are disabled. She educates herself, learns to type with her little finger and speaks through the Lightwriter. Finally, she works through unfavourable social systems and attitudes to get a career as an event manager.

As life becomes a tear and a smile for her, Malini tells us the story of her heroic battle against adversity, prejudice, stigmas, stereotypes, of her will to succeed and her search for an identity in a contrary world. And in the process of self-realization, she becomes a beacon of hope for everyone.
---
Disability, Gender, and the Trajectories of Power
Edited by Asha Hans. Published by Sage Publications. This book argues for the rights of women with disabilities, who live on the periphery of society, and seeks to eradicate the exclusion and stigma that are part of their lives.
---
Gifted
While the rest of the world has taken great strides in mainstreaming the differently-abled into the larger contours of their society, life continues to be an uphill struggle for the differently-abled in India. Written by eminent journalist Sudha Menon and MD of SAP Labs India, V. R. Ferose.These are stories that can inspire even the most abled among us.
---
Foreign Books

Disability Visibility: First-Person Stories from the Twenty-First Century
Some disabilities are visible, others less apparent—but all are underrepresented in media and popular culture. Activist Alice Wong brings together this urgent, galvanizing collection of contemporary essays by disabled people.This anthology gives a glimpse into the rich complexity of the disabled experience, highlighting the passions, talents, and everyday lives of this community. It invites readers to question their own understandings. It celebrates and documents disability culture in the now. It looks to the future and the past with hope and love.
---

Odd Girl Out by Laura James
What do you do when you wake up in your mid-forties and realize you've been living a lie your whole life? Do you tell? Or do you keep it to yourself? Laura James found out that she was autistic as an adult, after she had forged a career for herself, married twice and raised four children. This book tracks the year of Laura's life after she receives a definitive diagnosis from her doctor, as she learns that 'different' doesn't need to mean 'less' and how there is a place for all of us, and it's never too late to find it.

Laura draws on her professional and personal experiences and reflects on her life in the light of her diagnosis, which for her explains some of her differences; why, as a child, she felt happier spinning in circles than standing still and why she has always found it difficult to work in places with a lot of ambient noise. Although this is a personal story, the book has a wider focus too, exploring reasons for the lower rate of diagnosed autism in women and a wide range of topics including eating disorders and autism, marriage and motherhood.Odd Girl Out gives a timely account from a woman negotiating the autistic spectrum, from a poignant and personal perspective.
---
Expect the Unexpected: My Dreams and How I Got There
Autobiography by Larry Espling, a person with Cerebral Palsy.
---
Susan's story: an autobiographical account of my struggle with words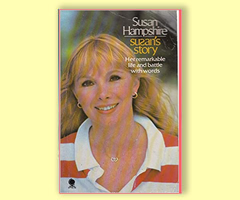 Autobiography of Susan Hampshire, an actress with Learning Disabilities.
---
Raymond's Room by Dale Dileo
For more books from this author visit www.raymondsroom.com
---
No One's Perfect by Hirotada Ototake
A disabled author with tetra amelia, a condition where almost no arms or legs, wrote 'No One's Perfect' - an instant bestseller in Japan.
---
Marathi Books

Apang navhe , Abhang me, by Dr. Shubha Chitnis
---

ऑटिसम - एक बिकट वाट ते वहिवाट (AUTISM EK BIKAT VAAT TE VAHIVAAT)
A book in Marathi to understand, communicate and handle the child on the diagnosis of Autism. The author Sunita S Lele explains in this book not only the experiences that she shared with all Autistic individuals but also writes the practical and theoretical method. Although the number of individuals with autism is very large, this book is mainly for families and professionals working with children 8 to 9 years old of age.

This book is divided into three sections and priced at Rs. 230/-. Each section contains 4 to 5 topics explaining the theoretical method and practical for self-study. This book is available for purchase at Forum For Autism 1, Sorab House, 6 Garden Road, Colaba, Mumbai 400039.

Tel. No. 9029018100,8080809116. Email: forumforautism@gmail.com
---
एक इझम निरागस (Ek Ism Niragas) -by Suhasini Malde
Experiences of an architect Ms. Suhasini Malde
about Ashiyana Institute a special school established
by her for children with Autism from Mumbai.
---

आंधळ्याचे डोळे (Andhlyache Dole)
Writer - Ved Mehta,
Translation - Shanta Shelke.
is a translation of an Autobiography – Face to Face by Ved Mehta.
This is a very inspiring tale of a very determined Ved who lost his vision but not his confidence, his intense search for knowledge & passion to live life to the fullest. Mehta Publications
---
एक पूर्ण-अपूर्ण (Ek Purna - Apurna) by Neela Satyanarayan
Engaging travails of a high placed official who is a mother of Chaitanya - a boy with Downs Syndrome.
The book portrays stages from denial to acceptance. Granthali Prakashan , Mumbai, Rs 125/-
---
Divyaguni
This is a translation of 'Gifted' in Marathi. Translated by Sumita Borse. Published by Mehta Publications.
---

झुंज नियतीशी (Jhunj Niyatishi) by Pratibha Hampras
The struggle of an Aurangabad based mother to raise a son with Cerebral Palsy Saket Prakashan, Rs 140/-
---
फिटे अंधाराचे जाळे (Phite Andharache Jale) by Bhalchandra Karmarkar
This is a story of a struggle of parents with their daughter Vallary- a girl with Cerebral Palsy, her progress, and challenges.
Published by Mehta Publishing House Price- Rs. 120/-
---
पंखाविना भरारी (Pankhavina Bharari) लेखिका- शरयू घाडी
---
शिशिर पालवी (Shishir Palvi)
Heart rendering experiences narrated by parents of special children.
---
अपवादात्मक मुलांचे मानस शास्त्र (Apwadatmak Mulanche Manas-Shastra) by Prema Kale
---
Braille, Audio Books
Marathi & English Cookery Books Available in Braille by cookery expert Amar Rane, a person with disability himself.
Audio cassettes are also available.
Email:- amarrecipes@gmail.com,
Mob no:- 9422306111, 7709101069

---
Magazines / Newsletters
English Magazines
Parivaar
Quarterly newsletter by National Federation of Parent's Association (NFPA) for Person's with Mental Retardation, Autism, C.P. & Multiple Disabilities.
---
Sparsh Magazine
Sparsh is produced twice year by Sense International(India), 2nd floor, Admin block, opp.
Indian Institute of Management (IIM), Vastrapur, Ahmedabad-380015
Phone- 91-79-26301282,
---
Autism Network
is published by Action For Autism.It's aim is to provide information on education,therapy,& care for people with autism.
---
Interviews / Podcasts

Developmental Paediatrician Dr. Vibha Krishnamurthy talks about why she set up Ummeed for neurodivergent children & how to include them in the society.

Sangeetha Chakrapani, a determined mother of quadruplets, autism advocate & Founder of Together. Listen to their inspiring journey in her inimitable style.
Aamhi Asu Ladke
(Marathi Film)

Producer Director AbhiramBhadkamkar has worked with the great sensitivity to put forward the lives of mentally challenged children. He has combined the storyline of a successful mother and her unsuccessful son burdened with expectations who comes across with these challenged children and how it changes his life for the better. The shooting has taken place at ChetnaApangmatiVikasSanstha, Kolhapur.

Anurag

Bombay-based Rajesh (played by Vinod Mehra) lives a fairly wealthy lifestyle with his parents, mom and dad - a businessman, named Amirchand. One day while walking on the beach, he comes across a beautiful blind girl named Shivani (played by Moushumi Chatterjee). He instantly falls in love with her. She also likes him, but understands that they cannot be married. Regardless of this, Rajesh asks his parents to permit him to marry her, to which his mother agrees, but his father refuses. An eye specialist is consulted, who concludes that the only way Shivani can see is through the eyes of a dead donor.

ApnaAsmman

A film by Kaushik Roy.

Bilal

Available with distributors Magic Foundation (magiclantern.foundation@gmail.com) and with director and producer SauravSarangi (souravsarangi@gmail.com)
source- Indian Express

Black

Directed by Sanjay Leela Bhansali, the film revolves around a deaf, blind & mute girl(played by Rani Mukherjee to perfection ), and her relationship with her teacher(Amitabh has surpassed himself in the teacher's role) who himself later suffers from Alzeimer's. The first half of the film is an adaptation of Helen Keller's autobiography.

Hostel

A short documentary film on eye donation.
Director:-Gajraj Rao, Producer: Subrat Ray.
Watch this film on www.youtube.com & www.giftavision.com

Iqbal

Produced by Subhash Ghai and his company Mukta Films, Iqbal is the touching story of a deaf-mute boy (enacted by ShreyasTalpade) who dreams of making it to the Indian Cricket team. His father doesn't approve of his ambition but his mother and sister support him. And he finds unexpected help from an alcoholic coach (Naseerunddin Shah). Nagesh Kukunoor directs this simple, inspiring story supported by Girish Karnad and Shweta Prasad

Koshish

The struggle of a hearing impaired couple and their victory over life.

Yellow



Yellow is a 2014 Marathi film directed by Mahesh Limaye and produced by RiteishDeshmukh and Uttung Thakur. The story explores a mother daughter relationship and developmental disability and behaviour of a child.
The directorial debut film is based on a true story of GauriGadgil, a special needs child, who also plays herself in the film. The film was released on 4 April 2014 to critical accalim. The film second film of actor RiteishDeshmukh as producer after Balak-Palak (2013). At the 61st National Film Awards, it won the Special Jury Award, while the child actors GauriGadgil and SanjanaRai received Special Mention.

My Name is Khan


Shah Rukh Khan is both excited and nervous about My Name is Khan, which, he believes, is his biggest film till date. Khan essays the role of Rizvan Khan who has Asperger's syndrome, a form of autism. "In Asperger's syndrome, one half of the brain is more developed than the other," he says, "So the person ends up thinking very logically as the emotional side is not completely developed. That's the reason Rizvan has problems socialising and is afraid of crowds. In fact, people having Asperger's often find it difficult to show any emotion."

Director Karan Johar and Khan spent several months researching people with Asperger's so that the actor could get the nuances right. "I began reading a lot of books. The Curious Incident of the Dog in the Night-time is one that I read several times. I watched a lot of videos and met several people with Asperger's," says Khan.

Johar spaced out the shooting so that the actor would have time to prepare himself for the scenes. "It took a lot of retakes to get everything perfect and I'm really thankful to Kajol and Karan for all their patience during the shoots," says Khan. The actor says that the movie is not a social-awareness film, "But I hope that it will bring about awareness of the problems that these people face in leading a 'normal' life," he says.

Natasha Sahgal - Indian Express




Yuvraj

Subhash Ghai movie where Anil Kapoor plays an autistic brother to Salman Khan & Zayed Khan.


Taare Zameen Par

Produced and directed by Aamir Khan, this is a brilliantly made movie which tells us about the world of children. Ishaan Awasthi, superbly portrayed by Darsheel Safary, is a boy in III std who loves fishes, dogs and loves to paint. But at the same time he hates studies, struggles with reading, writing, spelling and maths. He is also clumsy, reverses alphabets and has bad handwriting. He is a puzzle for the teachers and a cause of worry for the parents. Nobody understands him; he is called lazy, idiot and so on. Finally he is sent to a boarding school in Panchgani. There he meets his art teacher Nikumbh (Aamir Khan) who understands that he has Dyslexia - Learning Disability, since he also has this condition . He resurrects his lost self esteem through art in which Ishaan is very good at.

The message is every child is unique with different strengths and weaknesses, and it is upon us as parents, teachers and society at large to discover their talents and nurture them. (January '08)

Tera Mera Saath Rahe




A sensitive film by Mahesh Manjarekar. A story of an elder brother with a younger mentally retarded brother to look after

.

Forest Gump

An award winning film of a youth with cerebral palsy who makes it big.

Naache Mayuri

A life story of SudhaChandran. Her triumph over destiny with the Jaipur foot.

Sparsh

Naseeruddin Shah portrays a blind person.

Rainman

The story of an adult who is autistic. The role is superbly portrayed by Dustin Hoffman.