Articles
---
What is WAAD ?
WAAD is World Autism Awareness Day! WAAD is celebrated on April 2nd . It is celebrated to foster acceptance and understanding about autism. The theme for World Autism Awareness Day 2022 is 'Inclusion in the Workplace' & Inclusive education.Both are equally important and is the key to the transformative promise of the Sustainable Development Goals, to 'Leave no one behind'.This year's observance will address inclusive education in the context of SDG 4 - the promise and reality - through a virtual event that will include a moderated panel discussion, along with brief presentations by self-advocates, educators and other experts. The Event will take place on 8th April Time- 10 to 11.15 am EST -"Inclusive Quality Education for All " Registration is necessary. (For registration log on to www.un.org)

The theme of inclusive education is intrinsically linked with the focus of last year's WAAD observance, "Inclusion in the Workplace". Panelists in last year's event emphasized how crucial it is to foster inclusive quality education for people on the autism spectrum so that they can fulfill their potential and achieve sustainable success in the labour market. In this respect, inclusive education is the key to the transformative promise of the Sustainable Development Goals, to LEAVE NO ONE BEHIND.
(Source- www.un.org)

Why the need to celebrate WAAD?
The statistics show that one in 66 children are affected by Autism & the numbers are rising so awareness is very important.






---
What is Purple Day?
Purple Day for Epilepsy Awareness is celebrated on 26th March !

ChildRaise has been celebrating Purple Day for Epilepsy (Tendency to get Fits)since 2010. We really go all out to celebrate this day and make it a big event because there are very few organizations who focus on epilepsy in India. The statistics say that one person in every 100 has epilepsy.Though it is so prevalent, we still have so much stigma attached to it.

We are India partners with www.purpleday.org to spread epilepsy awareness & their message - "You are not alone & not to fear epilepsy". Cassidy Megan from Nova Scotia, Canada started her mission of Epilepsy Awareness at a very tender age in 2008. Her idea was very simple." Wear Purple & Show your Support to Epilepsy". Now recognised worldwide as a youth leader & an Epilepsy Advocate, Cassidy's initiative has spread to other parts of the world & has become a global event. Anita Kaufmann Foundation has joined her in this mission & taken epilepsy awareness on an international level. Their tagline is "Purple Day EveryDay". True to their words they are wonderfully creating awareness 365 days of the year.
Do log on to www.purpleday.org & www.purpledayeveryday.org to know more.






---
MORE ON ACCESSIBILITY
Listen to Jhillika Kumar & what she has to say in her TEDX Talk about
Accessible Products providing equal access and equal opportunity
Read more






---
50 Million Steps for Epilepsy
50 million people worldwide are affected by epilepsy according to WHO/OMS official figures.For many people living with epilepsy, the stigma attached to the disease is more difficult to deal with than the disease itself.

To raise awareness and to raise vital funds for epilepsy organisations across the world, the International Bureau for Epilepsy (IBE) is asking people to join together to walk 50 million steps in the lead up to International Epilepsy Day – one for each person in the world who has epilepsy – as part of the '50 Million Steps for Epilepsy' challenge.Do Join Us in this Campaign.

Click on this link to know more-
https://www.ibe-epilepsy.org/50millionsteps/






---
The full form of UDID is Unique Disability ID. Unique Disability ID Card (UDID Card) is being issued to all the disabled persons who register for it. This card is also known as Swavlamban Card and it comes with a number of benefits.This UDID project is initiated by the Department of Empowerment of Persons with Disabilities which aims at building a holistic end-to-end integrated system for Issuance of Universal ID & Disability Certificates for Persons with Disabilities with their identification and disability details.

PwDs are required to register with the UDID portal. Once registered, after the login is complete, they will be able to apply online for a Disability Certificate and UDID card. How to register for the UDID and to know about the description of the workflow click on http://www.swavlambancard.gov.in/

A person with less than 40% disability would have a card with a white stripe, 40 to 80% would have a card with yellow stripe and above 80% card with a blue stripe. A unique 18-digit number would be given on the card, which would have state identification digits, district code, disability code, year of birth and another sequence. Read more at:

https://economictimes.indiatimes.com/news/politics-and-nation/colour-coded-cards-to-be-launched-for-2-7-crore-disabled/articleshow/55929479.cms?utm_source=contentofinterest&utm_medium=text&utm_campaign=cppst

https://www.indiatoday.in/information/story/how-to-apply-online-for-udid-card-a-complete-guide-1618567-2019-11-13

https://economictimes.indiatimes.com/news/politics-and-nation/colour-coded-cards-to-be-launched-for-2-7-crore-disabled/articleshow/55929479.cms


To know more (In Hindi) https://www.youtube.com/watch?v=sQoDgc7OjYc
---
Know more about Cerebral Palsy, the most common childhood disability.Why there is a need for World CP Day?
World Cerebral Palsy Day will be celebrated all over the globe on October 6th. What is World CP Day & why it is celebrated?

Cerebral Palsy is a complex condition and can pose a lifelong disability.It mainly affects movement but affected persons can have visual, hearing, speech and intellectual impairments. Nearly 70% of children with CP have epilepsy. CP can be mild to severe.

It is celebrated to create more awareness of the condition as a person with CP can evoke a wide range of emotions from sympathy, pity to neglect, rejection and isolation.

The colour for CP campaign is chosen as Green to represent youthfulness, new growth and also hope for advancements in treatment and acceptance. We need to celebrate the achievements of people with CP so more & more people become aware and we inch towards an inclusive society.

Read more on Cerebral Palsy
https://www.childraise.com/CP_Warriors.html
https://www.childraise.com/c_palsy.html


---
| | |
| --- | --- |
| October – The Learning Disabilities Awareness Month | |
The open house at my school are one of the most difficult days at work. Here, by 'my school' I mean the school where I work as a part-time remedial teacher. On one such open house day, while I was explaining one of my student's report card to her mother, she was accompanied by a relative. The relative was listening to our conversation closely. After we were done, she casually asked, "Do you get a lot of 'naughty' children like this one here?" I just smiled.

In school, I work with children who cannot perform academically at par with their grade levels. To put crudely, the ones who cannot read properly, make frequent spelling mistakes, do not take interest in studies, cannot copy from the board, disturb the class amidst an activity – the 'naughty' ones. They are categorized by the school as 'LD children'- worry for the school, burden of the teachers and puzzles for the parents. These are children with Specific Learning Disability, mostly Dyslexia.

Google says, Learning disabilities are a groupof neurological conditions which involve difficulty in learning to read or interpret words, letters, and other symbols or/and write or basic arithmetic operations withoutaffecting general intelligence. There are two takeaways here – neurological condition and general intelligence. As it is a neurological condition, it is life-long and cannot be treated. Learning disabilities are seen in children and adults with average or above-average intelligence. The definition itself says that people with LDs are intelligent, then why are they labelled 'stupid'? Our education system is gnarled with the pen and paper method so much that these children who cannot work their way around it, are considered disabled or at disadvantage.

It is true that reading and writing are indispensable academic skills. They are essential in any kind of education system. Students with dyslexia can achieve them with therapeutic learning methods. A number of students with learning disabilities pass their exams with flying colours once they learn to manage their condition. Special education courses comprehensively cover different symptoms of LDs , their management, effective teaching methods and provisions provided to these children. We are taught to focus on what they cannot do and how we can remediate that, but we are never taught what they can do? If their brains are wired differently, what they have to offer?




40% of self-made billionaires are dyslexic. What about Leonardo da Vinci, Albert Einstein, Walt Disney, Richard Branson or even Tom Cruise! How did they do all that with Dyslexia? For years Dyslexia or any other learning disabilities are viewed as limitations or incapacities. This Learning disabilities awareness month let us try to view the children with learning disabilities in different light and let them shine in their own way!

- Amruta Veer
Amruta is a Remedial Teacher. She works as a freelance remedial teacher in a mainstream school and provides remedial services at ChildRaise Centre. She holds inclusive workshops for kids with special needs and others at ChildRaise Centre. She also writes for www.childraise.com
---



Meet a new emerging generation of siblings who are a blessing to their parents and their brother, sister with special needs. Know more about what role they play in this special journey!

Siblings Day is a holiday recognized annually in some parts of the United States and Canada on April 10, and as Brothers and Sisters Day on May 31 in Europe, honouring the relationships of siblings. Undoubtedly, this is a unique bond but when the sibling is a brother or sister with special needs, it becomes a little complicated one.

Parents are often worried when they have a child with special needs. And usually the responsibility of looking after the adult with special needs is handed over to the sibling whether they feel involved in the care of their sibling or not. Often, parents think of admitting their child in life care centres because they do not want their other children to bear the care of their sibling.

But now, the times are changing. Gone are the days when parents were guilt ridden because they felt they were doing injustice or demanding much more from their other children to take care of their brother or sister with special needs. The new breed of siblings are coming to the forefront and playing active roles in their sibling's lives.

Welcome to the world of sensitive, sensible, caring human beings who are blessings in the form of siblings. They have understood that their brother or sister with special needs is an occurrence of no fault of their parents or them.

Get to know some of the inspiring siblings who have made a difference not only in their siblings lives but in the lives of others who are travelling on the same path.
Reach Out
In any programme dealing with disability if you come across a cheerful smiling lady along with a smiling adult in his fifties, this duo is sure to be Rekha Balgi & her brother Girish Balgi who is mentally challenged. Rekha is a special educator, trained counsellor & a Yoga instructor. She is the Founder of Reach Out which was formed in 1997 that organises activities to create Inclusion & Awareness. Recently she has published Reach Out- Make a Difference guide which addresses issues like financial security , what after us which constantly cloud the minds of the carers of people with special needs.
Nayi Disha
Prachi Deo' s brother who has Down's Syndrome is her inspiration in setting up Nayi Disha. This is an information resource for intellectual and Developmental Disabilities (IDD). She quit her job in the software sector to pursue her passion for working on the issue of IDD.

Check out www.nayi-disha.org
Reservoir
Shreya Jain set up Reservoir because she has a brother with autism and fully understands the struggles of families. Her organisation helps parents and caregivers navigate the legal framework and set up trust funds, letters of intent and UDID for children with special needs. . Reservoir's online platform, which was launched last year, takes care of two other core objectives: curating resources for caregivers and building a network of trusted professionals for therapy and other needs.

Read more on www.reservoirnow.com
Veruschka Foundation
Late Veruschka Dias and Late Mariamma Thomas were beacons of joy and life, who surpassed their developmental disabilities to inspire two young women – sister Tatyana Dias, a neurbiologist and niece – Christina Joseph, a financial professional respectively to help other individuals like them find a voice and place in our society. They set up Veruschka Foundation to realise their dream of an inclusive society that Accepts, Celebrates and Empowers differently-abled individuals.

Read more on - https://theveruschkafoundation.org
Saarthi (meaning Charioteer)
Sibling Support Network India is a community of siblings of persons with intellectual & developmental disabilities and other disabilities.


---
Here are some of the recent articles, material made available by the Govt, NGOs, etc. for kids to explain what is Corona.
---
| | |
| --- | --- |
| Awesome Heroes with Autism | |
Presenting stories of Varun Sawant & Kabir Kumta. They have autism. Meet them and feel inspired.
Varun Sawant's resolve to go beyond the finish line was path-breaking. Procam International has released a wonderful video on him
on World Autism Awareness Day, describing his journey towards becoming Asia's first marathoner with Autism!
Click to view
Kabir Kumta - Flower Power and the power of Autism


Kabir has autism. He loves meeting people and experiencing new places. Making torans and haars and
hand-delivering them to his customers allows him to
be a part of the fun and festivity for which the torans and haars are ordered.

Kabir's Kreations have adorned homes, workplaces, exhibitions in colleges ...
with each delivery Kabir has received much more than his fee.
There has always been heartfelt appreciation, sometimes accompanied by a hot cup of tea ...
and occasionally a box of kaju kaatri or hot khaman dhokla ...
Some of these he loves and some he tries with some apprehension.

All in all, Kabir's Kreations opens up the world to Kabir and Kabir to the world :)

Visit his Facebook page- https://www.facebook.com/Kabirs-Kreations
and meet other awesome heroes with Autism.


---
| | |
| --- | --- |
| Cerebral Palsy Awareness Month 2020 | |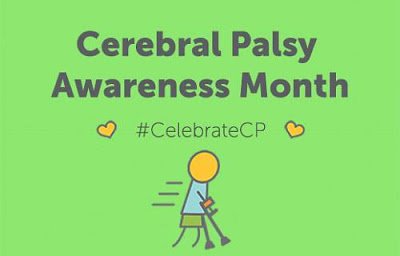 In some parts of the world, Cerebral Palsy Awareness Day is celebrated on March 25th.
The colour for Cerebral Palsy Awareness is green. We are joining in their campaign #GoGreen4CP.
We are presenting some inspiring stories of CP warriors whom we have been associated with.


---
| | |
| --- | --- |
| Light on Learning Disability | |


Poems are the best way to express emotions and feelings, in a nutshell.
These two heartfelt poems on Learning Disability or Difficulty (LD)
explain the condition without the barrier of definitions, terms, and jargon.
These poems speak of hope, understanding, and triumph of the human spirit.


---
Peace With Pace

A Child, Wonderful gift from nature.
My Child, my link with the future.

When my child smiles, my world shines.
When my child cries, a part of me dies.

I wish to teach my child to the best of my ability,
But.. I am shocked to discover, he has a Learning Difficulty!

My child fumble with alphabets, letters.
His study time give me jitters.

Oh my child.. all these letters lead to a treasure,
How can you be deprived of this divine pleasure.

I know my child, Learning is difficult game for you.
Even writing your name is a great achievement for you.

I will wait my child, for the Golden day,
Till you find your Pace, Then I will attain my Peace!!

- Kavita Shanbhag


"I CAN" poem is the outcome of all the observation, experiences and chats Jagriti had with me during my PGDSE course. More I used to tell her, more she used to probe. She started developing empathy towards her classmates who suffer with their academics. She understood that the dumb and stupid are the meaningless words as there is a reason for every behaviour. She was so happy to know that her mom is trying to understand them and help them. She was motivated to pour herself on the paper. This poem is what she knows and experienced, with her mom in this beautiful journey of special education.

- Geeta Singh
I CAN

I am the child that looks healthy and fine.
But something is different, somewhere in my mind,

I want to learn, I want to know
But with different method and different goals

Every day I try my best
But I always get the lowest my test

I am not lazy, I am not smart
It's just my mind, doesn't seem to know where to smart

Don't tell me what the world knows
Tell me that I don't know

I just need your attention sometimes
Even you know that, deep inside.

Sometimes when I run around the class messy
You think that I've gone crazy

But hear me out I'm just a child
Like all the other children you can't expect me to walk a mile

So what I'm asking is just for your help
To make me batter, to make me feel like everyone else

So, I don't have to go home every day and cry
And think that my whole life has been a lie

It only takes one compliment to make me feel better
I hope you understand that by reading this letter

I CAN be like you, her, and him
All need, is you to understand who I truly am.

- Jagriti Singh


---



Your Children are your Gift from God !

- Roopa Yennemadi Lobo
When I held Rewa for the first time I knew I had a tough role to play, but didn't really gauge the intensity of it . She had delayed milestones but was coping fairly well, I first discovered her block when she began studying hindi in class 3, she would write A for K and K for A consistently. At first I ignored it and like a typical mother and educator verbally lashed out at her. 5 months down the line I knew that there was something drastically wrong somewhere, I approached an education and counseling centre Drishti and her diagnosis said it was LD (Dyslexia, Dysgraphia and Dyscalculia).

I was like any other parent upset at first but the educator in me took over quickly, I knew this was her and my battle for life and if I would not have handled it well then she would never learn to cope. I first approached her school Gundecha Education Academy at Thakur Village Kandivali East. Now time to say hats off , the school has an excellent plan for Special children and they took over her disability beautifully. From Rajashree Pawar her first special educator, to her major pillar of strength Padmaja Sabnis , support came in waves. Her concessions, her special education sessions were so beautifully given and conducted. They not only equipped her to deal with her disability but encouraged her creativity at school, She is excellent at drawing and photography and has bagged several prizes for both. that I can't thank them enough, Yes one word would say it all "grateful". I would also go on to say that Purnima Sharma her private tutor and special educator would come in line after me for the pains she has taken to shape Rewa.

I knew that my role as a parent would be ongoing. From running to get her tests done at Government hospitals to dealing with her feeling of hopelessness, I saw a new me emerging, a spirited and a strong minded me who had to wake up every day and tell my child "it's our battle and we need to fight it out".

As readers I would like to tell you this, always be an advocate for your child, be a very proactive parent and seek help for your child. Also become your own expert. Keep up with the new developments in learning disability programs, therapies, and educational techniques but don't forget you are the expert and the biggest influence for your child when it comes to finding the tools he or she needs in order to learn. Always stay positive and do not make the child's disability the center of their and your life. Remember your support encouragement and positivity will have a lasting impact on the child. At the same time understand that you have a life too do not over invest in the disability so much that you have no life of your own, go out into the world and do what you want, take care of yourself and take help wherever and whenever necessary. Let your family and friends know about your child's disability and the way you are dealing and coping with it.

Broadly think of life's success rather than just academic success and enjoy life with your child. Life itself is a teacher and trust me, your children will do as good as any other child with your ongoing love faith and trust in them!




What Roopa says about herself.....After 1 year at Lady Engineer High School, 11 years at Carmelite Convent English High School (old schools of thought) and 10 years at Kangaroo Kids Education Ltd (modern school of thought) .... Finally creating my own world of leading a team of 32 live wire teachers at N.L.Dalmia High School Pre Primary Section....A golden lesson I learnt in these 22 years in the field of education."The agony and the ecstasy of the parents rich or poor, parents of kids having special needs or not, is just the same!!"
---
Chaya (Sheela) Ubhayakar.. a committed Teacher writes about her experience of being a teacher of a Marvelous Student. What does she have to say about this marvelous student?

"You have enriched my life like no other last year
And, are growing more marvelous each day this year.

My heart swells when I glimpse you in the hallways
When you shyly smile and say "I miss you" always

I miss you too, my dear and your presence in my class
But, you must move on and on and I have to stay, alas"

Being a sensitive teacher she knows what is going on in his mind & she has given words to his thoughts...
Marvelous Me !
I live in a wonderful world all of my own
I see things that you may not see.
I have feelings that you may not have.
You may see me as different, not like you
Remember, I am just marvelous ME !

I don't take to changes certainly
I don't like show of affection
I don't display much emotion
I get overwhelmed easily
Remember, I am just marvelous ME !

Please don't talk around or over me
Because I don't converse like you do
Simple events may set me off quick
That doesn't mean I am idiotic
Remember, I am just marvelous ME !

I am much smarter than some
Contrary to your assumption
In fact, I learn things faster
Complete my assignments quicker
Remember, I am just marvelous ME !

So, take some time, be patient
You may not get to know me
Or this wonderful world of mine
I have a label, called "Autistic", but,

Remember, I am just Marvelous ME !
Ms. Chaya Sheela Ubhayakar, a retired teacher wonders how her students with Autism must be coping in this Corona Pandemic.
She expresses her concern and sends love through her open letter.
I often wonder how you are faring
Now, that times are so confusing

Gone is your favored life of routine
Riddled daily with changes umpteen

School closed, lessons taught on line
Dad, mom, siblings home all the time

What happened suddenly, so peculiar?
Everything looks the same yet unfamiliar

Am sure you are trying to understand
Make sense of this situation, a bind

Wish your parents, you, I could meet
Help your fears, confusion, to alleviate

Alas, we have to keep distance now
But, my wishes will reach you somehow

Stay safe, healthy, take care, my dear
Sending hugs, love, good vibes, prayer

Ms. U ❤️
April 2020
Presently teaching Math and Science to 3rd grade students in a wonderfully diverse school in Houston , Texas, USA, Chhaya (Sheela)Ubhayakar graduated from Elphinstone College, Mumbai, India and University of Houston Downtown, Texas USA. She is certified in General, Special & Gifted/Talented Education. She loves to read, write, art, craft, act and cook. She enjoys being with family & friends. Sheela says ..."I am Passionate about my work, especially teaching and learning from challenging students."
---
| | |
| --- | --- |
| Life is so beautiful, Just don't lose hope, overcome fear! - Shenaz Haveliwala | |
With brilliant mark sheets and a seat in a prestigious engineering university, my family was sure aboutmy future success. I had a very lively and easy childhood.
In 2005, at the age of 19, one week before my examinations, I lay down on my mother's lap complaining of a headache. The next thing I remember waswaking up in the hospital ICU. And, that was the first time I heard the word 'viral encephalitis'.
After mechanical engineering, I had decided to major in laser technology, a reality I had built in my head.I couldn't go back to university since I used to get seizures every day. Side effects of drugs were terrifying. My social life was hampered.
Mom and dad left nostone unturned. Everything they could do, was done. It was during this one year that i became part of the 'college editorial board' in the Times of India.I was still getting seizures almost every day. A miracle was my only hope.
Eventually I had to undergo a surgery atSreeChitra institute in Trivandrum. It was then that i came across patients from all walks of life; people from different cultures, age groups, cities, financial backgrounds. All of them bound by one common thread-epilepsy. It felt so relieving to know that I was not alone. There were millions battling with me. Unfortunately, for me, surgery was not a complete success. I have been on several AED's since the past nine years. I was desperate to support my medical expenses, at the same time, was fully aware that it will be difficult for me to find a job in another company. That is when, I decided to start a business of my own. I renovated my father's old warehouse in Fort to a conference hall. Since it is a commercial area, close to high court, there is a need for out of court settlements, arbitration matters etc. Giving it out on rent, I now support the finance of my own medicines. The hall is called SoboConnect and is now used for professional and other general meetings as well. It has made me feature inIndia's national business magazine 'Entrepreneur India'. Epilepsy could never stop me.
Promoting SoboConnect I learned the art of website designing. At the same time did not give up on my academics. Studying through correspondence, I graduated in the stream of commerce last year.
Currently, I'm working at the Indian Epilepsy Association (Mumbai Chapter) as a special educator for young adults with epilepsy. Along with regular studies, I strive to teach my students the importance of courage and persistence.In life, it does not matter how slowly you go, as long as you don't stop.
Just after I let happiness rule my life, in 2011, Dr. B.S.Singhal honored me with the'Most Courageously Living withEpilepsy' award. The same year, my story was featured in a book 'Conquering Epilepsy' edited by Carol D'souza.
I continue to get seizures and struggle to overcome the side effects of my current medication but i 'm happy I've learned to visualize the world my way. If you walk with hope in your heart, you never walk alone.
Few weeks ago, I received an award by the International Bureau of Epilepsy. I was invited to Singapore to receive a prestigious award at the Asian and Oceanic Epilepsy Conference as the 'Outstanding Person with Epilepsy'-2014. I encountered patients, delegates, doctors from various nations, cultures. It was overwhelming to see my work getting a global recognition.
My profession makes me so happy.It's now that I have become so much more grateful to Allah and can see the beauty in all his plans. Life will move forward, just keep in mind that there is light at the end of every tunnel.
For Epilepsy day this year, I will be inTrivandrum, to the same epilepsy ward I was admitted in for my surgery in 2007. Only difference is that this time, instead of being a patient I'll be going asthe guest of honor. Life is bringing me back to where I started from. It is such a proud feeling. Where there is a will, there is a way!
- Shenaz Haveliwala
---
| | |
| --- | --- |
| A low carb, high fat diet to fight epilepsy | |
It's a diet that has high fat and low carbohydrate content, and ensures that one does not put on weight. For several patients suffering from epilepsy, exposure to the ketogenic diet has not only been able to control innumerable seizures but in some cases has also proved to be a cure.

Epilepsy affects approximately one per cent of the population. In India with a population of over 1.2 billion, this translates to around 12 million or 120 lakh persons with epilepsy of whom 25 per cent (30 lakhs) are resistant to any medication and fall in the category of drug resistant epilepsy.

The ketogenic diet was scientifically introduced by Dr Howland of the Johns Hopkins Hospital, USA and Dr Wilder of Mayo Clinic in 1950s, says Mumbai-based neurologist Dr Janak Nathan, who is also the chief coordinator for Purple Day India. March 26 is observed as Purple Day and Nathan has been coordinating with medical professionals and organisations to make the day as one of change for all those suffering from epilepsy.

Now, tailormade to suit Indian conditions, the ketogenic (KG) diet treats patients who have epilepsy that is difficult to control. Nathan, who underwent training at Johns Hopkins Hospital, introduced KG diet in India in 1996.

"There was complete ignorance about the benefits of this diet not just among patients but among doctors as well," Nathan said.

"Our centre in Mumbai has been treating 230 persons with the ketogenic diet - that has now been changed so that the patient does not have to be hospitalised or undergo fasting."

The classical ketogenic diet replicates the effects of fasting by providing a high fat, low carbohydrate but normal protein diet. This forces the brain cells to use ketones for their daily energy needs and seizures among epileptic patients are brought under control. "It was difficult and expensive for persons with epilepsy to get hospitalised or even adopt fasting as part of their diet," explains Nathan. The diet was then modified where the most difficult part - that is fasting - was eliminated.

In a mathematically-calculated doctor-supervised ketogenic diet that is a high-fat, adequate-protein, low-carbohydrate diet , it mimics the aspects of starvation by forcing the body to burn fats rather than carbohydrates. Normally, the carbohydrates contained in food are converted into glucose, which is then transported around the body and is particularly important in fuelling brain function. However, if there is very little carbohydrate in the diet, the liver converts fat into fatty acids and ketone bodies.

The ketone bodies pass into the brain and replace glucose as an energy source. An elevated level of ketone bodies in the blood, a state known as ketosis, leads to a reduction in the frequency of epileptic seizures, says Nathan.

PURPLE DAY
Purple Day was founded in 2008 by nine-year-old Cassidy Megan of Nova Scotia, Canada, with the help of the Epilepsy Association of Nova Scotia. The day is an international grassroots effort dedicated to increasing awareness about epilepsy worldwide.

ON MARCH 26, people from around the globe are asked to wear purple and spread the word about epilepsy.

Lavender is the international colour for epilepsy. The lavender flower is also often associated with solitude, which is representative of the feelings of isolation felt by persons with epilepsy.

Epilepsy affects over 50 million people worldwide. That's more than multiple sclerosis, cerebral palsy, muscular dystrophy and Parkinson's disease combined. In India, there are about 12 million people with epilepsy.

- Anuradha Mascarenhas, Indian Express, Saturday March 19th 2011


---
| | |
| --- | --- |
| ChildRaise "V Volunteer" Initiative | |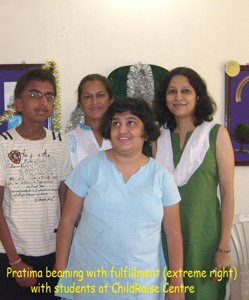 International Volunteer Day (IVD) is celebrated on December 5th of each year by highlighting the significant contribution of volunteers all over the world. UN Resolution for IVD hails the day as an "opportunity for volunteer organisations and individual volunteers to make visible their contributions - at local, national and international levels - to the achievement of the Millennium Development Goals." The ability of volunteers to contribute reflects their capacity to make significant change for the better.

Pratima Jamalabad- A great homemaker, an animal activist, nature lover wished to do some more with her time. She is sharing her experiences of Volunteering at our ChildRaise Centre.

Kavita has been both a dear friend and neighbour for the past 20 years. I have always been witness to her involvement in issues relating to epilepsy and aiding children with autism, learning disabilities, in other words with differently abled people. So when I got a chance to volunteer at her Child Raise centre, I decided to give it a try. So far my teaching abilities were confined to my son and his friends. Nobody in my close circle had an child with autism so I didn't really know what to expect. Would the parents of her students object to my presence there? As it is, I didn't have any qualification that would justify my being there.

However, all apprehensions were laid to rest. On my first visit to the centre I was welcomed by the mothers present there. I was introduced to the students-Michelle, Mukul ..... The first day was spent just in observing the pattern of activities- exercises, reading, vocational training etc. I decided to start reading out to the children and then at a later stage helping them with activities like solving simple arithmetics and English vocabulary.

Initially, I found the going tough. A child with autism does not meet your gaze nor do all of them like to be touched. It was difficult to know if they were listening to my reading out to them as getting an expected response is not possible. By expected response I mean a response a normal child would give like a nod of the head or a smile or an answer.

Kavita & other teacher -Alka was always there to guide me and give me the confidence I so lacked. Little by little, I learned to judge and appreciate their response. I learned to be patient which was a big thing for me as by nature I am an impatient person expecting quick results. I learned to wait until I got an answer, understood their body language and realised that these children have a short attention span.

Since children with autism do not let you know if they have enjoyed an activity or not, it sometimes seemed a hopeless task and I wondered if I was wasting their time as well as mine. But I could soon tell what interested them and what bored them as well as different methods of getting through to them. My biggest reward was when one day Michelle after our reading session reached out and put her hand over mine. Today, I realise that instead of just me teaching them, I have learned a lot.

We urge people to come forward & join /sign up for our V Volunteer Initiative.

Pratima.


---
| | |
| --- | --- |
| How disco helped my autistic son | |

Before Jimmy Hobley discovered disco, he was desperate. He couldn't read, couldn't write, couldn't make head or tail of the world. Then he began dancing. Jimmy is one of Sheila Hobley's three boys, all of them autistic. Alex is 16, and the twins, George and Jimmy, are 10. When Alex was born, Sheila'sLife was turned upside down. She was 26, didn't know anything about autism. It wasn't easy, and Sheila and Alex's father split up.

A while later, she got together with Andy. They both wanted children, and Sheila didn't want to worry Andy by suggesting they might be autistic, too. The experts said the chances were minimal - she was told there was a one in 1,000 chance of having another autistic child, figures that have nowadays been revised to between one in 80 and one in 100.

But, sure enough, the twins were autistic. "They both had terrible screaming fits, and they were biters," Sheila says. It got worse. Sheila and Andy couldn't go out socially together. They both think it's a considerable achievement that they've stayed together for 11 years. By the age of three, George was hiding scissors and kitchen knives under his bed. He'd tell his parents they were to kill Jimmy with. She couldn't cope, and started to take anti depressants. "They ripped books up, destroyed toys, wrecked everything," she adds.

However aggressive George was, there was an equally tender side. She was desperate to find something to occupy the twins. And that's where the dancing came in.The front door opens, two high-pitched voices are squealing and it feels as if we've been hit by a tornado. The boys are home from their special school.


Right moves
Sheila says strangers assume Jimmy was a natural on the dance floor: "When he started, he was wobbly. He couldn't even link three moves together." But soon he shone with his extraordinary high kicks and gyrating hips.

He began to win local talent shows. Then regional talent shows. And before long he had reached the finals of the national Disco Kid championships. He became a little bit famous, and a TV film about him and the family was commissioned.

The documentary, made by Liz Bloor, is funny, desperate, and often moving. The great thing is that his dancing has helped him in many ways - it taught him how to socialise and how to deal with success and failure. In short, his brain's wiring, which had been so horribly twisted in his early years, started to straighten itself out.


Learning soon
I ask Jimmy how he thinks the dancing has changed him. First, he lifts his top to show off his six-pack. Sheila says it's benefited Jimmy 100 per cent, but there's been a price to pay for the family. Dancing lessons are expensive, especially with neither Sheila nor Andy working, and she admits the other boys have probably not had their share of the attention.

The boys are eloquent about their problems, particularly George. "Autism means you have learning difficulties," he says. "You have trouble knowing stuff that mainstream kids pick up easy. My behavioural problems are I just can't keep my emotions in, I've got to let them out.

And I'm working on that with my dad." There is also a positive side, he says. It might have taken him ages to learn, but now he's a brilliant reader. "I've got hyperlexia, which means I can read a lot - words that I've not even heard before. I can read words upside down and backwards. It's basically the opposite of dyslexia."

"Do you wish you had something like Jim had?" Sheila asks him gently.

"Yes, but not dancing. I'd rather be a whiz at something creative. Jim always boasts about his dancing and sometimes that really annoys me because I wish I could find something. Mam says I could maybe do rugby because I've got that kind of build."


Living away
Anyway, George says, things will change soon if Jimmy gets into ballet school in Birmingham. Then they will lead separate lives. As Jimmy shows me some of his moves, George drops a bombshell. "I suppose I'd secretly miss him," he mutters. "It would be pretty odd because I've lived my whole life with Jim so far, but if that's what he wants to do." And then the tears come.

Source by Hindutan Times


SSCs sops for autistic students has no takers
Mumbai: It was heralded as a big moment for parents with autistic children when the Maharashtra Secondary School Certificate Board in February spelt out concessions for these differently abled students.It meant children with autism a developmental disorder that affects a childs social and neurological progress could go to normal schools and enjoy the benefits of an integrated education.

But according to the Forum For Autism and Nair Hospitalwhich is one of the assessing centres to hand out the concession certificatenot one student sought concessions for the recently concluded SSC exams.Why The answers are in some ways indicative of the lack of awareness about the disease. First,the announcement was made in January and the procedures were spelt out in February.Not all schools received the government resolution, said Chitra Iyer from the Forum For Autism,a parental group that has been working for better facilities for autistic children.Secondly,there are possibly too few autistic childrenand that too in the high function groupwho may have reached Class X.Our priority in getting the concessions was to ensure that children in the lower classes ultimately avail of the benefit, said Iyer.

The forum is in the process of petitioning the education department to extend the concessions to Classes I up to VIII.At present,only a handful of schools on their own initiative include autistic children and help them through the initial years.By the time the child comes to the board level,it is difficult for them to manage.But if the education authorities ensure that concessions are made at every level,it wont be difficult for the child in the later years, adds Iyer.

Dr Henal Shah,psychiatrist from Nair Hospital who is associated with the autism school operated by the civic administration as well as with the autism certification process,concurs that it will take a while before autistic children reach out for an SSC concession.We know a few children in some proactive schools who will sit for the SSC board exams in a couple of years, she said,adding that many parents do come to the Nair Hospital centre seeking certification for autism from other boards.

At a press conference held in February by parents after the state board announced the concessions,developmental paediatrician Dr Vibha Krishnamurthi had said that it was thoughtful of the board to consider specific characteristics of autism while giving concessions.For instance,considering that autistic children have a problem with changes or new schedules,the board had agreed to allow them to sit in their own schools while giving the exam.Some autistic children have motor issues that make it difficult for them to write well or quickly.So the provision for a computer is indeed a great move, Dr Krishnamurthi had then said.

Incidentally,FFA is also in dialogue with the SSC board for exemption from languages for SSC students with autism.


Early Signs Of ASD
No pointing by one year of age | No baby talk by one year | No single words by 16 months | no two-word phrases by 24 months | Any loss of language skills at any time | No pretend playing | Little interest in making friends | Extremely short attention span | No response when called by name| Little or no eye contact | Repetitive body movements,such as hand flapping or rocking | Intense tantrums | Fixations on a single object,like a spinning fan | Unusually strong resistance to change in routines | Over sensitivity to certain sounds,textures or smells | Difficulty reading or communicating through nonverbal social cues | No understanding that others may have thoughts or feelings different from his/her own | Obsessive focus on a narrow interest such as reciting train schedules

Even normal children may exhibit some of these behaviours from time to time


What Are Autism Spectrum Disorders
ASD causes severe impairment in thinking,feeling,language,and the ability to relate to others.No two kids with ASD have similar problems.If one has severe social interaction problems,the other may have low IQ,even mental retardation.These disorders range from a severe form called autistic disorder to Asperger Syndrome.


EDUCATION WITH A HEART
» To appear for the exams in their own schools

» The use of computers as well as calculators

» 20 minutes extra per hour of the exam

» To give oral answers in practicals exams

» A maximum of 20 marks as grace

» To choose lower level math and other subjects

Source- Times if India


---
| | |
| --- | --- |
| 'School teachers need to be educated about epilepsy' | |

Many children suffering from epilepsy get little sympathy from their teachers when they get seizures in school and are often told to quit school, a health expert has said while underlining the urgent need to educate schoolsabout epilepsy and how to help affected students.

"I get many children who have been told by their schools to stay at home 'till they are cured'. This just shows the complete lack of understanding people have about epilepsy in India and how to manage this treatable health condition," said Mamta Bhushan Singh, assistant professor in the department of neurology at the All India Institute of Medical Sciences (AIIMS).

"There is a pressing need to organise talks in schools about epilepsy in order to educate teachers about it. If schools begin to stigmatize students affected by epilepsy as someone abnormal, then it increases the problem. It becomes more difficult for the child to cope. We need educators and counsellors besides doctors to help because epilepsy is a treatable disease," Singh said on the sidelines of a talk on 'Epilepsy: Need for greater awareness' at the India International Centre here.

The doctor's comments came after the mother of a child suffering from epilepsy said that her son was told by teachers of his well-known south Delhi private school to "remain at home till he is cured".

"This just shows the lack of awareness and understanding people have about epilepsy," the doctor said.

Around 10 million people in India - 10 out of 1,000 people - have epilepsy, but most do not have access to proper treatment, especially in rural areas.

"The treatment gap, which means epilepsy patients not getting treatment or getting inadequate treatment, is huge - around 70-90 percent. This is a dismal state of affairs," said Singh.

"There is a stigma attached to epilepsy, which makes people tend to keep it under wraps. This is wrong and harmful for the patient," she said, adding that many people run to quacks for treatment instead of coming to hospitals.

"Nowadays there are very good drugs to treat epilepsy, and in case the drugs do not work surgery is also done in special cases, which has proved very beneficial," Singh said. AIIMS is one of the few hospitals in India where specialised surgery is done for epilepsy patients.

Asked if ayurveda is helpful in treating epilepsy patients, Singh recounted the case of a well-known "ayurveda" doctor in Haridwar who would put out huge advertisements in newspapers of how he could cure epilepsy with his "wonder herbal drug".

"We at AIIMS were worried because many of his patients began to report to us," she said. The quack was arrested and when his "herbal medicine" was examined at AIIMS they found it to contain a mixture of 3-4 known allopathic epilepsy medicines.

"He would crush the allopathic medicines into a paste and administer it to epilepsy patients, irrespective of their symptoms or severity. This was even more dangerous."

A major reason for children getting epilepsy is head injuries. Children fall off open roofs, which don't have ramparts, during play and hurt their heads, which results in scarring of the brain.

Babies born at home are at risk of getting epilepsy, she said. "The baby born at home could cry late and there would be no doctor to provide immediate treatment, this could lead to epilepsy. A difficulty in birth could also result in the baby developing epilepsy," Singh said.

Another major contributor to epilepsy cases is eating unwashed leafy greens. Green vegetables like cabbage and lettuce, which grow near the soil surface, could have tapeworm eggs. These eggs if ingested travel through the blood stream to the brain and cause epilepsy seizures.

Singh said eating leafy green vegetables served in hotels, especially those in sandwiches and in Chinese dishes, which are partially cooked, should be avoided.

These are causes for epilepsy that are "preventable", said the doctor.

Don't pin down a person getting an epilepsy attack, just make him/her lie down on one side and remove any sharp objects from near the person. Don't also try to put something in their mouth, she added.

Source - www.indiaedunews.net


---
| | |
| --- | --- |
| Oxygen shot for autism brings cautious optimism | |
MUMBAI: Can a dose of oxygen and good amount of money treat autism? Jaslok Hospital on Peddar Road has triggered a debate of sorts by offering the hyperbaric oxygen therapy (HBOT) for autistic children, dividing the city's medical community and parents in the process.

The hospital has been using HBOT - a process to deliver oxygen to patients at a high pressure in a sealed chamber - for treating various conditions such as gangrene and stroke. But many are sceptical that it will click for autism, a developmental disorder that affects 1 in every 150 children (mainly boys). Autism, for one, doesn't have a single known cause. For another, the treatment costs Rs 1 lakh even at subsidised rates.

Dr Shoaib Padaria, an interventional cardiologist and in-charge of the HBOT centre at Jaslok Hospital, said, "We have autistic children who underwent HBOT sessions and gained. Research has proved HBOT is helpful in treating autism."

A US study published in January 2009 said children aged two to seven who underwent 40 hours of treatment showed improvement in eye contact, sensory and cognitive awareness, social interaction, receptive language and overall functioning.

Consider the case of 10-year-old Asmit (name changed), who attends a special school for autistic children. Asmit's attention span has improved since he underwent the 40 sessions, believes his mother Aruna (name changed). "But HBOT should be given after properly assessing if the child suffered oxygen deprivation at birth," said Aruna.

Doctors remain sceptical. Dr Vrajesh Udani, a paediatric neurologist with Hinduja Hospital said, "A study of HBOT on cerebral palsy did not show any difference between controls and subjects. The autism study did show some differences but it must be, at present, considered experimental as only one study has shown this. More studies need to be done before it can be recommended.'' He added the therapy is extremely expensive and one should be careful before recommending it.

Jaslok Hospital offers the therapy at Rs 6,000 per session, with a complete course approximately at Rs 1.5 lakh. Apollo Hospital in Delhi has been offering HBOT therapy at Rs 1,800 a session, with a 40-session course for Rs 72,000.

Some parents, too, are apprehensive. The primary concern indeed is cost, given the uncertainty it entails and also the fact that other treatment such as occupational and behavioural therapy cannot be discontinued. "HBOT therapy is expensive and largely unproven. And there is just one hospital in the city which offers it. We do not even have doctors trained for HBOT therapies who can monitor the whole process,'' said Chitra Iyer, president, Foundation For Autism (FFA).

But HBOT has its firm believers. Manish Lad, mother of seven-year-old autistic Akhil, and founder director of an NGO called Akhil Autism Foundation, said, "HBOT must be considered for autistic kids. But parents have to understand temporary healing regressions and actual regressions.'' She added parents have to follow the hierarchy of diet, nutrition support, anti-fungal treatment, anti-viral, chelation and HBOT. "We have been using HBOT to treat autism for two years and had encouraging results,'' added Dr Arun Mukherjee, director of NGO Udaan, in Delhi.
---
| | |
| --- | --- |
| In desperate need of special educators | |
At least 3,00,000 rehabilitation professionals wanted in India....... - Deepa Suryanarayan

India needs a whopping 3,00,000 rehabilitation professionals, including special educators, speech therapists, pathologists, audiologists, rehabilitation and clinical psychologists, physiotherapists, etc to meet the demands of the huge number of persons with disabilities in the country.

Yet, there are only 38,000 registered rehabilitation professionals in the country at present, according to the Rehabilitation Council of India (RCI), a Delhi-based regulatory body.

"As per the 2001 census, two per cent of the population, which works out to two crores, is disabled. There is a huge need for seven times more training professionals than what we currently have to meet demand," said SK Mishra, deputy director, RCI.

India needs 2,55,000 special educators for children with various disabilities, while the remaining requirement is for support specialists like physiotherapists, clinical psychologists, orthotists, etc. According to the Planning Commission's Institute of Applied Manpower Research (IAMR), India has 5,265 professionals for the hearing impaired while the requirement is for 58,000. "Likewise, there is a huge need for teachers for the visually impaired, speech impaired, mentally challenged, etc," pointed out Mishra.

There are 16 courses, including diploma and bachelors and masters degrees, standardised by the RCI, available in India. The situation of shortage is worsened with many of the professionals migrating abroad.

"While there are takers for the courses, many of them move abroad after completing their degrees," said Mishra, who addressed a meet of course coordinators for education of the hearing impaired in the city. "The idea is to encourage more people to take up these courses," he added.

http://epaper.dnaindia.com/epapermain.aspx


---
Often parents of special children have reported that they always knew there was something wrong with their child. Even professionals believe that gut feelings or parental instincts are never to be ignored. So do not neglect your gut feelings and always act upon your instinct. Once you have any reason for doubt about your child's development depending upon the problem or condition, you should take your child for diagnosis, further treatment and management to:

1 Family Physician Initial / Preliminary Diagnosis
2 Pediatrician/ Developmental Pediatrician Preliminary Diagnosis Confirmation of Diagnosis
3 Neurologist Neurological defects like CP MR, Epilepsy, etc
4 Clinical Psychologist MR, Autism, Learning difficulty
5 ENT/Speech audio therapist Hearing impairment,CP
6 Eye surgeon Visual impairments, CP, Learning difficulty
7 Physiotherapist / Occupational therapist Orthopaedically Handicapped ,CP
8 Orthopedic surgeon CP, Orthopaedically handicapped
9 Remedial / resource /special educationist Learning difficulty, MR, CP
10 Psychiatrist Emotional/Behavioral problems
11 Counselors Emotional/Behavioural problems
12 School teachers Detection of scholastic problems and implementation of educational plan
13 Child Guidance Clinics Holistic management

Do not indulge in doctor shopping but see to it that your doubts are cleared and you give the best to your child!


---
| | |
| --- | --- |
| Acceptance is the magic 'Mantra' | |
The parents go through a spectrum of emotions once they realise that their child is different than the rest. Dr.Manoj Bhatawdekar, a leading Mumbai psychiatrist aptly describes the parental emotional state in a nutshell. He calls it as "GADBAD".-----Read More In read more-Know about GADBAD & be reassured that you are not the only one who feels these extreme emotions. Every special parent goes through GADBAD and how to overcome it.

What is GADBAD

Guilt - The parents feel guilty about giving birth to such a child. They think-'I must have done some mistake in the past, that's why my child has developed this disability".

Anxiety - They are constantly anxious. They worry about the future.

Denial - The parents do not accept the diagnosis. they feel it must be wrong.

Bargain - Parents try to bargain. e.g. can I stop the medication for my child or can I give medicine just once instead of twice/thrice?. Same happens with therapy sessions also.

Anger - The parent may express anger towards his/her child who has disability or towards spouse, family members, the doctor or entire medical system/society.

Depression - Parent expresses sadness, helplessness and negative attitude regarding the possible outcome of disability.

Parents who have overcome the GADBAD stage, recommend the magic mantra of Acceptance & vouch that this is the only way which will lead to the road of recovery.


---
Hearing Impaired Children

Dr. Rajkumar Umesh Singh, SIEMENS
Are you one of those parents who often get the feeling that your child is slow in learning language than others in their own age peers? Sure as parents most of us can assess some point of development activities. When the child took his first steps at the age of 12 months, we expect the child to produce their first words also. And when we found out that the child at the age of even 2 yrs., no language skill is enhanced, we are sure that the child would turn out to be a handicapped as if by some black magic power. Many parents might over blow the extent of their children's problems and it can complicate the further treatment/rehabilitation plans. Deafness is an invisible impairment, which makes the problem identification still more difficult to diagnose at an appropriate time i.e. before 2yrs. Critical period of language learning.
What is Hearing impaired?
Over the years the term has been given different definitions, but most are not accurate enough to cover the broad range of difficulties the hearing impaired individuals suffered. The word actually refers to those exceptional children who are atleast some degree of acquiring language skills is affected due to hearing defects. But though a hearing level of 70dB and above does indicate severe to profound problems, it doesn't always define the term. In general hearing impaired children are less vocabulary, and communication difficulties who are unable to envision multiple approaches to a problem and develop social isolation to deal with it.
To determine whether your child fits into this category, you have to look for certain characteristics such as response to loud/soft sounds, Imitation/repetition, motivation, curiosity, ability to communicate, use of signs and less attention span. Of course, some normal children do have at least one of those characteristics, but you can only assume they are hearing impaired if these traits are more intense than children their own age. If you happened to sing to your toddler a nursery rhyme sufficiently more nos. of time and no imitation respond is coming from your kid, then you definitely have reason to suspect he may be hearing impaired. Also the intellectual traits such as like mental problems could also hamper your judgment. Try to watch your child as he plays, whether alone or in group. Any suspicion from your observation warrants an immediate attention of ENT referral.

Early Detection
What most parents don't seem to realize is that they can tell whether a child is hearing impaired long before at the time of birth or at the later stage.
If your child doesn't birth cry, head/neck defect, and infections history or heredity problems, then child need assessment. But what do you do when you have a hunch that you are dealing with some sort of problems like hearing impairment? The first advice is don't ignore the fact. Do something about it. Help your child develop to his/her full potential to achieve as an self independent individual.
You need to make an arrangement for an array of neo-natal hearing testing services including sound screening test, free field test, conditioning, Electro galvanic response audiometry, crib-o-gram, play/visual reinforced audiometry, Oto acoustic emission (OAE), Auditory brain response (ABR), Impedance, Reflex decay etc. Then it is all up to the specialist's advice. If you don't do anything to nurture that advice, chances are your child will never be able to reach his full potential to learn language.
Contrary to old beliefs that a child's language learning abilities in hearing impaired child is nil. It has now been confirmed that nurture plays a significant role in rehabilitation of hearing impaired children. You can either kill those chances of acquiring language and make them sign language communicator of silent world, ensuring a life of frustration and depression (they know they are different, but cannot express themselves), or you as a parent can transform their capabilities to fruitful, help them develop their auditory skills, language vocabulary, speech stimulation and above of all to satisfy their curiosity and foster their analytical skills.
Sometimes, unintentionally of course, we as parents tend to suppress\certain potentialities in our hearing impaired children, presuming that they cannot hear it. We simply stopped talking to them. A hearing impaired child may pose a serious challenge to reach the goal of self dependency, we as parents must learn that hearing impairment doesn't mean mute it is rather man made. We have to identify the problems early and an immediate intervention must begin as early as possible.
Looking to the future
We have a real problem in our homes when parents are unable to detect and deal with hearing impairment, unfortunately many parent are negligent to do neither. I have strong advocacy of neonatal screening program for all High-risk register children (HRR). It is the only way we can help the early detection and intervention. They have a right, like all other children, to be rehabilitated and placed in a proper intervention centre. They also need to be able to communicate with peers of their same level of language skills.
We should be optimistic about the future in this area. Realizing the implications of such problems, one hope that our state Govt. will have some future planning for the early detection programme for such invisible problems. Therefore, the Manipur Govt. must start a project for the early identification of hearing impairment. RIMS can be a part of this project where medical facilities can be upgraded further with available manpower expertise. Money will have to be invested to ensure programs, which will detect and make use of hearing impaired individuals. All the district hospitals must also have a pilot team to run such a project.
But despite such dreams, the fact still remains that there isn't enough awareness of the importance of detecting and nurturing hearing impairment-and many parents and even Doctors are just not giving these hearing impaired children the environment needed to provide both the physical and psychological stimulation that they need.
TIPS FOR THE PARENTS
Give them the same amount of both love and discipline you would to any child. Being hearing impaired doesn't mean they need sympathy.

Create a stimulating learning environment in your home. Hearing impaired child need a lot of speech and language stimulation to acquire language skills. One suggestion is to hang up charts on different walls giving them the opportunity to explore and ask.

Provide opportunities for question and story telling moments.

Don't be disheartened with no answer or no repetition from your child. Keep continue stimulation. You need to be patient and to provide different clues for the stimulation is needed.

Use your ability to dramatize the situation. All children love to hear story and hearing impaired child can get more fun and benefit from the creative /direct activities.

Enjoy and respect your child's individuality, they can!
For the first time in the state, a government-run hospital has set up a treatment centre-cum-school for autistic children. The centre at Nair Hospital in Mumbai Central was opened on Tuesday.


---
---